Larry M. Taylor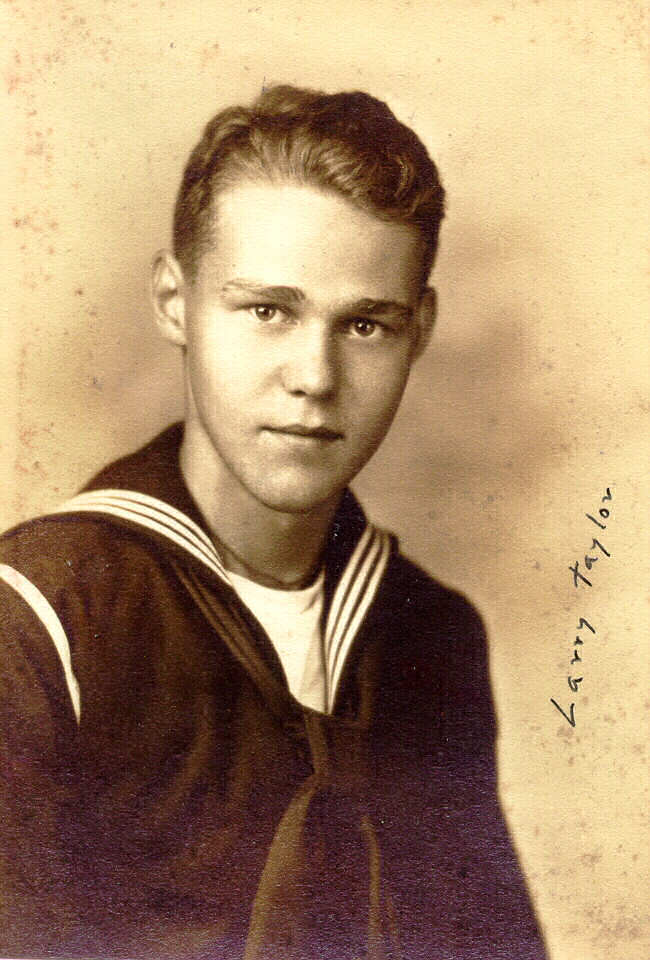 U.S. Navy May 15, 1943 to February 26, 1946
I joined the Navy at Washington, D.C., on May 15th 1943. I was 17 1/2 years old. There were about 4 or 5 of us new recruits and we had a few hours to kill before boarding the train to Sampson, N.Y., and Boot Camp, so we went to the Earle Theater for a movie. I forget what movie it was.
At Boot Camp we learned how to be a sailor, how to march, how to salute, how to hate your drill instructor and how to shoot a rifle. The rifle shooting stuck with me because I am still at it 65 years later. After Boot Camp I was sent to Great Lakes Naval Training Station in Illinois for basic Fire Control school. They told us that the top 5%. of the class would go to advanced school at the Washington Navy Yard, this sounded good to me and I really applied myself and finished in the top 5%.
Of course I was sent to the South Pacific instead. The train to the west coast made a stop in Salt Lake City, and I marveled at the snow capped mountains, the first time I ever saw the mountains of the west. In early December, I boarded the U.S.S. Copahee, an escort carrier, bound for the Southwest Pacific and the war against the Japanese Empire. The flight deck and the hanger deck were crammed with airplanes of all sorts. The closest I ever came to being seasick was on the Copahee as we wallowed in the ground swell outside of the Golden Gate while waiting to make up a convoy.
We crossed the equator on December 22nd., and all of the Pollywogs on board were introduced in no uncertain fashion to that messenger of the deep, Davy Jones, and to the Rules and Regulations of the Domain of the fabulous King Neptune. Most survived the Royal Court, the paddle line, kissing the Princess and the mustard-smeared belly of the Royal Baby, Satan's electric pitchfork, and the Royal hair cut. After a good greasing and painting, and an unpleasant concoction squirted down our throats we buried ourselves in the Royal Garbage Tunnel. Then came a shower bath with a fire hose. At last, those who survived, became true and honorable Shell backs.
The Copahee deposited me in Brisbane, Australia, toward the end of December. I was there about a week when I boarded an Australian coastal freighter headed to New Guinea. I think we had mutton for every meal.
I boarded my ship the U.S.S. Mullany at Milne Bay, New Guinea, in early January and it wasn't long before I was in the thick of things covering landings and shell bombardment at Buna, New Britain, Cap Bretin, Gali, Finschafen Saidor, and Alexishaven New Guinea. The rumor was spread about the ship that we would soon make a visit to Sydney, impossible, scuttlebut. February 8 to 24, found us in beautiful Sydney, Bondi Beach, Luna Park, Kings Cross, pretty girls everywhere.
Back to the fighting. We covered landings at the Admiralty Islands. I was a telephone talker on the port bridge when the ship was straddled by enemy shore guns, we escaped under cover of smoke screen and began to earn the reputation as a "Lucky Ship." The months from March to the end of July were busy with operations up the coast of New Guinea, Admiralty Islands, Wewak, Hollandia, Wakde, Biak, Noemfoor, Sansapor. I remember one depth charge run where we either were going too slow, or the depth charges were set too shallow, and the explosions lifted the fantail almost out of the water.
In early August, we were back in Sydney for much needed rest and relaxation. I took a train ride out to a nature park to see kangaroos, koala bears etc., and missed the last train back into town. While waiting at the station about ten o'clock that night an Australian Army Soldier, drunk as he could be , came into the station. I thought this was the end of me because he was a big guy and I was just a little American sailor and I was sure I would be beaten to a pulp. Turned out he was a friendly bloke and we traded my 3rd class petty officers stripes for his sunburst hat badge. A locomotive and tender arrived in a shower of sparks as he applied his brakes, "you blokes want a ride into town?" I barely made it back to the ship in time.
Back to business, Morotai, Halmahera. Escorting the U.S.S. Wasatch with Vice Admiral Kincaid to the Philippines. We were under continuous air attacks. The 20th. of October we were underway to the good old U.S.A. and much needed yard repairs. I was home for Christmas. Mother had given all of her Christmas decorations to the Naval Hospital, so we made popcorn and cranberry chains to decorate the tree. Richard was home.
After our yard repairs we were back out to the Southwest Pacific again, this time to Iwo Jima. I was in the main battery plotting room on the nights of 16 and 17th of February where I was responsible for firing our big guns during night harassing fire at Mt. Suribachi. I would give the order, LOAD, STAND BY, FIVE, FOUR, THREE, TWO, ONE, FIRE. This was done at irregular intervals to keen the Japs off guard. About this time I was a Fire Control Man 3rd class and studying to become 2nd class. My mentor was a 1st class Fire Control Man named Ken House. My general quarters battle station was on #5 40 mm gun where I was first loader. Ken was training me to take over his position as gun director operator on #5 40 mm. On the 5th of April as I was climbing the ladder to my battle station, #4 5 inch gun fired and I lost my glasses. The morning of April 6th I went to my gunnery officer, Lt. Perry and requested to be transferred off #5 40 mm until I could replace my glasses. Lt. Perry transferred me to the main battery plotting room as a telephone talker. About 17:45 that evening all hell broke loose as we were attacked by a squadron of Jap planes. One plane got through our anti-aircraft defense and crashed the after deck house between 5-inch mounts 3 and 4. Bob Love, 1st Class Fire Control Man, was operating the main battery computer and he could see the range to the plane rapidly closing. "That S.O.B. is going to hit us." The crash momentarily knocked out power and knocked me off my feet. Someone was on the PA system yelling into the mike so you couldn't understand what he was saying. I told him to shut up and talk slower so he could be understood. I later found out that I was calling down Lt. Quillin Fox.
The order was given to abandon ship and I went over the starboard side. My brand new shoes were weighting me down, so I kicked them off, then my life belt wouldn't inflate because someone had stolen the C02 cartridges out of it. The current was carrying me back along the side of the ship and I got my first glimpse of the damage. I can never forget the sight of Ken House hanging out the back of his gun director.
As a result of this action I lost my entire old 40 mm gun crew. Twenty one were killed, 9 missing and 36 wounded. I was in the water for about 30-40 minutes when I was picked up by a whaleboat and taken to another destroyer, I don't remember what ship it was. I received a Red Cross survivor package with clothing, tennis shoes, cigarettes, candy and a wool turtle neck sweater, which I still have.
After abandoning ship, the ship refused to sink, so we went back on board in the early hours of April 7th and limped into Kerama Retto for emergency repairs. I guess because I was young and daring I was chosen to descend into the wreckage to get a grapple hook under the Jap pilot's rib cage and pull him out of the wreckage. On the 26th of April, we headed home on one engine. The Mullany was repaired to fight again. On V.J. Day we were in San Diego taking on ordnance. Then we were on our way to the Panama Canal and Charleston, S.C. and decommissioning.
MEMORIES, SOME GOOD, SOME BAD
When we were in dry dock at the Bethlehem Steel Ship Yard in San Francisco and a very drunk shipmate came back from shore leave and found a cat on the quarterdeck, which he threw over the side down to the bottom of the dry dock. The cat was back on the quarterdeck the next morning!
The ice cream and milk 24/7 in Sydney, Australia.
Captain Mullaney playing chess with the Captain of the H.M.A.S. Australia by signal light.
I can never forget the stench of charred human flesh, fuel oil, burned paint, etc., after the Kamikaze attack and the sight of my dead shipmates.
The continuous air attacks in the Philippines.
My near panic on abandoning ship, weighted down by my clothes and shoes, with a life belt that didn't work. Also worry that the Japs would stafe us and what about sharks!
Sadness upon hearing that our sister ship, the Bush DD-529 was sunk on the same day we were hit.
Who can forget the friendliness of the Aussies on the Arunta, Warmonger, Australia, and Shopshire.
I found the diaries of Larry McCoy and Bernie Ulrich very helpful in recalling dates and places.
Lawrence M. Taylor FC 3/c U.S.N.R.